29 octobre 2009
4
29
/

10
/

octobre
/

2009
17:18
Following the request of LAF users who claim that Alert Boxes and LOVs do not support the L&F decoration, I have implemented these new features in the next 1.3.9 version.
Personally, I would never have thought about re-writing the LOV stuff because the Standard LOV feature is robust and efficient, so I did do this exercise in the sole purpose of satisfying the users.
So that, the LAF LOVs are displayed with the same L&F that the one used for the other LAF objects.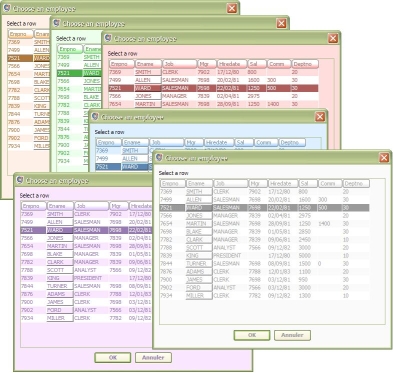 To add something new to the stuff, I used the Swing Jtable feature in the purpose of adding new functions, like moving and sorting columns and also let the end-user choose what column is to use to filter the LOV.
Before delivering this new version, I would like to know if some of you would be interested in testing this version and give feedback to me?
If you are interested in and have time to spend, send me an email on the forms.pjc.bean mail, then I will send you the new version, for you, to test.
Thank in advance,
Francois